Noritz Tankless Water Heaters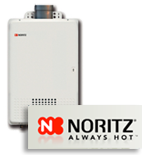 WHY NORITZ?
Trailblazers in the field of tankless water heaters
Noritz has been an innovator in the water heating industry for over 60 years. We introduced the first modern, electronically controlled tankless water heaters in 1981 and we remain the leader in energy savings and superior hot water delivery today.
Serving both homeowners & commercial users across the U.S. and Canada, Noritz America offers a broad range of tankless gas water heaters to meet our customers needs.